Spring SAT registration is open!
The SAT will be offered Tuesday, April 25, 2023. Testing will occur on campus, during school hours. Specific time and location will be announced closer to the testing day, so check back soon! Please bring at least two #2 pencils and a calculator. Everything else you will need will be provided. 
We are doing pre-registration for the test, so if you would like reserve a seat, please fill in this FORM no later than Wednesday, March 22nd. This will guarantee your student's seat. There will be some limited openings after this date leading up to the test day, but seats will be limited and cannot be guaranteed for everyone after March 22nd.
The cost for the SAT is $60.00. Payments can be made by cash or check made payable to "Gloucester County Christian School" with SAT in the memo, due by the day of the test (April 25).
A NOTE FROM MRS. TRAVERS
Please note that it is a personal decision of both you and your student as to when you will choose to take the SAT – if at all. The SAT is not a requirement for high school graduation. That being said GCCS would like to suggest a potential timeline for taking PSAT/SAT tests to help you with your planning. (There is a large amount of Algebra 2 material on the SAT, so the recommendations have been broken down based on when you take Algebra 2.)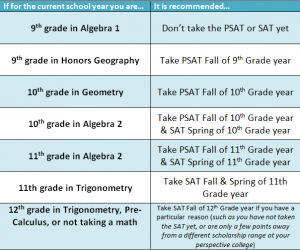 GCCS also offers an SAT Prep Course (included free with your tuition) that meets every Thursday during Activity Period!
For PSAT test preparation leading up to the test date, check out https://collegereadiness.collegeboard.org/psat-nmsqt-psat-10/practice
For SAT test preparation leading up to the test date, check out https://www.khanacademy.org/sat and https://universityhq.org/resources/college-planning-guide/sat-prep/
Fall SAT & PSAT will return October 2023. Registration will open July 1st
For more information please contact
Secondary Principal, PSAT/SAT Coordinator
Updated 12/Mar/23