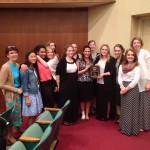 Students from Gloucester County Christian School, Sewell, will be competing in the 39th annual American Association of Christian Schools (AACS) National Competition held at Bob Jones University in Greenville, SC, on April 12-15, 2016.
By placing first in a recent Garden State Association of Christian Schools state competition, fifty-one students from GCCS will be competing in various categories- Art, academic testing, vocal music, instrumental music, Bible teaching and preaching, Bible quizzing, solo and group speech/drama. We are very thankful and proud of our students and coaches for their hard work and dedication.
Over 1700 students and sponsors from 39 states participate in the competition, having captured top honors in their state competitions. The students, representing 200 Christian high schools, compete in 77 categories in the five basic areas of Bible, music, speech, art, and academic testing.