Day 34-42: Things are coming together, espescially with the help of our wonderful workday helpers!
Day 27-33: Sanding, Painting, and Waxing!
A special thanks goes out to the "helping hands" volunteers who've been around campus this week!
Day 16-26: Dropceiling, Doors, and Floors!
Day 12-15: Finishing the drywall and painting continues…
Day 7-11: Spackle, paint, and sweat, oh my!
Our fearless workers are braving the heat and humidity as they push ahead on the construction!
Day 5-6: Improvements keep going along!
Day 3-4: Sheetrock is going up!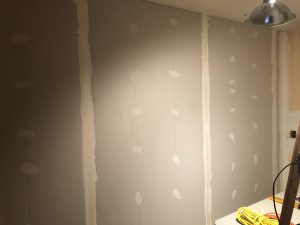 Day 2: Change Comes to the Hallway too!
First things first, remember to always coordinate your outfit with your tools!
Great progress was seen today as construction continued in G-12 and began in the ajoining hallway .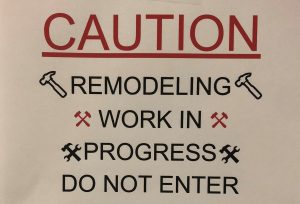 Day 1: First Day of Summer, First Day of Construction
It's summertime again! While our student's work may be over for this school year, the work around the campus is just getting started!
Today we had a great crew working on the initial steps of converting the G-Building science lab into the new Pre-K and Kindergarten classrooms, including: Greg Maynard, former GCCS teacher/administrator; Dave Mecke, father of 3 GCCS alumni; Dave Dersch, grandfather of 2 alumni and 1 current GCCS sophomore, GCCS Maintenance member Matt Davis, and summer helpers alumnus Brady Mariner (GCCS class of 2018) and Bobby Turner (current GCCS junior).
The lab tables, fixtures, and dividing wall have been removed and initial framing has begun!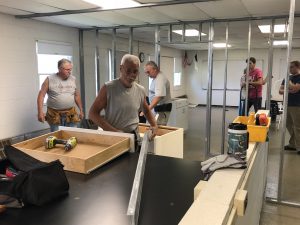 G-12 framing begins!
During the school year our Maintenance Department of Matt Davis and Mike Proto had already begun converting the snack bar of G-Building into the new nurse's office.
With all of this done on day 1, it will be amazing to see the great changes to come throughout the summer season to the campus of GCCS.
Oh, how great the blessings of God on this school has been! He truly blesses us beyond measure!
Keep an eye here for more updates as the summer progresses!!!